Sustainable, space-saving photography backdrop stand. Batch 2
Regular price

Sale price

$20.00
Stock due within 3 days.
SHIPS WITH DHL

DUE TO THE SIZE AND WEIGHT KIT IS SHIPPED WITH DHL; FOR THE BEST VALUE PURCHASE KIT IN THE SAME ORDER AS BACKDROPS.
PRE-ORDER FROM BATCH 2 FOR OCTOBER DELIVERY.

HANDMADE IN SMALL BATCHES. ORDER FROM BATCH 2 FOR OCTOBER DELIVERY.
Save time and space with our handy, sustainable wooden backdrop stand - a quick and easy solution to hold your backdrops in place behind or directly on top of your set.
Simply clip your backdrop to a piece of 5mm foamboard (or thick card) and slot them in the precision cut groove - so much quicker and easier, especially in smaller studios (or bedrooms) - no need to be tripping over loads of stand legs anymore!
position the stand vertically next to your set or lie it down to slot the backdrop into it - this might be easier when you want some space between your set and the 'wall' behind - just make sure the chair, table etc you put it on is level!
Can also be used to hold bounce and fill cards upright and in place of course!
Developed with a local wood recycling centre using reclaimed building timber and handmade in small batches - size and finish may vary slightly.  If you need two exactly the same please order them at the same time.
Backdrops, clips and foamboard available to buy separately.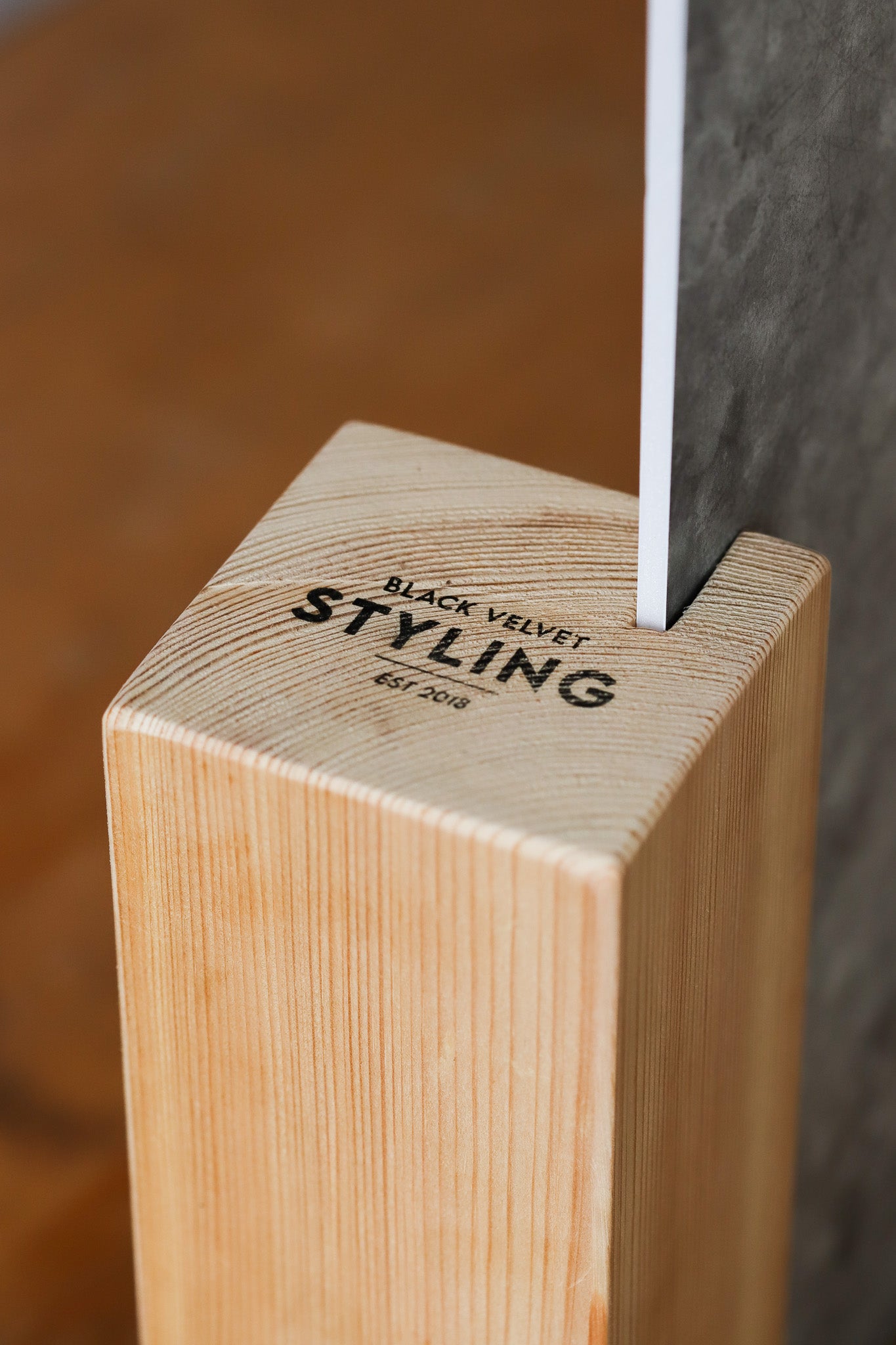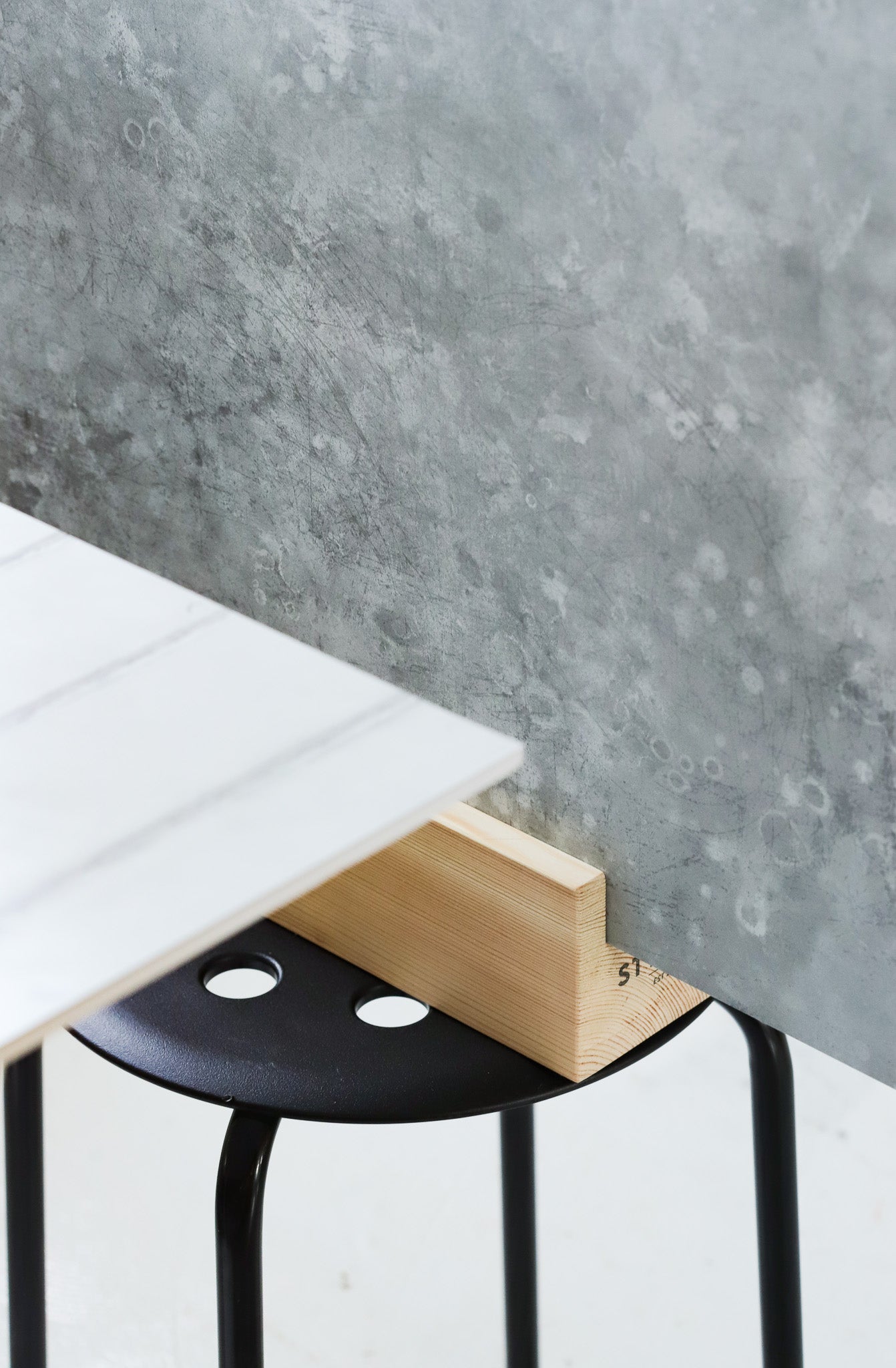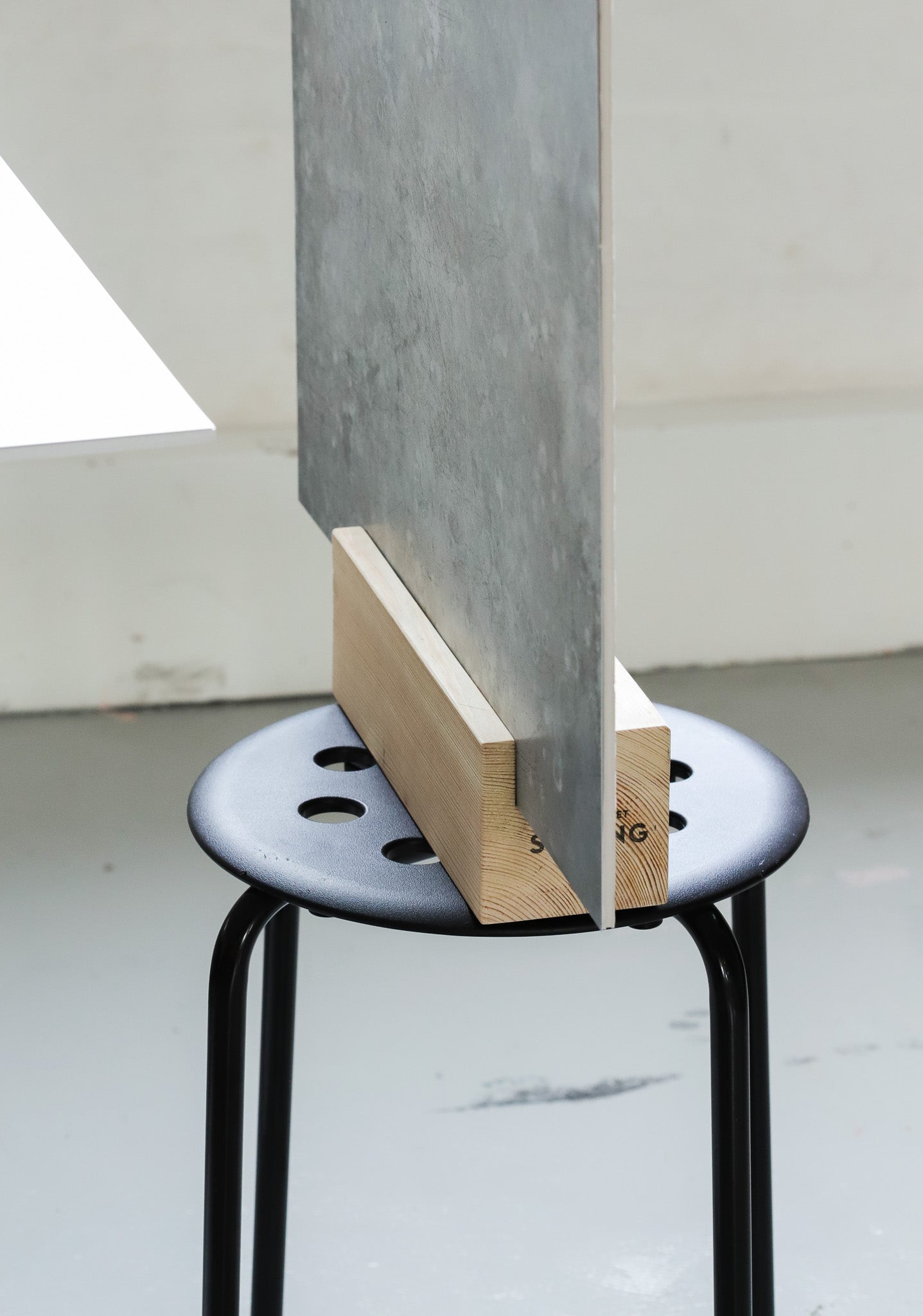 YOUR QUESTIONS ANSWERED
WHICH BACKDROPS ARE IN STOCK FOR SAME DAY DISPATCH?

All A1 backdrops (60x84cm) in BVS designs (not customs) are kept in stock for same day dispatch when you order before 1pm Monday to Thursday.

Any orders placed after 1pm on a Thursday will be dispatched the following Monday. (Exc UK bank holildays.)

On the rare occasion we have sold out of an A1 backdrop it will be noted as on 'BACKORDER' in your cart. In this event your entire order will be held back and shipped when everything is in stock - usually within 1-4 business days.

If you'd prefer to have the deliveries split so you can have the in-stock items sooner just get in touch.
HOW LONG DO A0 + XL BACKDROPS TAKE TO PRODUCE?

Larger backdrops are printed-to-order so take a bit longer to dispatch.

Usually they are printed within two business days for dispatch on the third day but they can be quicker or a little longer depending on the time/day you order.

To get them as fast as possible after production we recommend using one of the guaranteed next day delivery options.
HOW LONG DO CUSTOM BACKDROPS TAKE TO PRODUCE?

Custom backdrops are designed-to-order based on the notes provided with your order, emailed for your approval and then sent to print.

Usually they are printed within one business day for dispatch on the second or third day but they can be quicker or a little longer depending on the time/day you order and how fast your artwork is approved via the email you provide with your order.

To get them as fast as possible after production we recommend using one of the guaranteed next day delivery options.
what are the shipping options?

UK customers can choose between standard RM48 (2 day shipping, FREE on all orders over £75) or next day delivery (from the dispatch date) before 9am or 1pm with RM or before 6pm with DHL.

Your shipping options may change due to large or heavy items in your cart.

Irish, European and international customers have Royal Mail and DHL options depending on your country and items.

For most of Europe and USA delivery with Royal Mail is 3-5 business days and with DHL its usually 1-2 business days.

The costs are based on order weight and can be calculated from your cart.

You can also arrange your own courier collection - please see the Can I collect my order? tab.
CAN YOU EXPEDITE MY ORDER?

We know the photography and marketing world can be a last minute one!

If we can help you we will - please get in touch.
WHAT ARE THE BACKDROP SIZES?

Our standard backdrop sizes are -

A1 - approx 84x60cm
A0  - approx 120x84cm
Extra Large - approx 150x101cm

We can't print larger than this. If you'd like smaller or irregular sizes the backdrops are easy to cut down with scissors or a knife and matt.
CAN I COLLECT MY ORDER?

You are welcome to collect from us by appointment Monday to Thursday (and sometimes Fridays if we're in the studio).

We are based in Darley Abbey, Derbyshire, DE22 1DZ.

Please enter 'COLLECT' at checkout and then contact us to arrange your collection time.

(If you change your mind postage will be chargeable.)
CAN I CUSTOMISE THIS BACKDROP?

YES - all of our designs can be tweaked to your liking and printed on either our extra-thick waterproof vinyl or sustainable paper.

Change the colour or material of this backdrop with a custom design here.
CAN I HANG THE BACKDROPS?

YES - our unique extra-thick vinyl material is perfect for hanging as it stays flat and provides smooth curve if needed too.

All of our backdrops can be hung with tape or clips on a horizontal arm on a c-stand or tripod or a domestic dressing/hanging rail.
WHAT IS THE BACKDROP MATERIAL?

We print on two different materials.

Choose our unique, extra-thick waterproof vinyl for messy food styling and the highest durability or sustainable paper for a more affordable option for product and dry photography.

Both are matte with very little glare, white on the back and hold their shape for easy curving and hanging.

Our vinyl backdrops open immediately and lay flat to use straight away - paper backdrops may need a bit of time (a few hours or overnight) to relax after being rolled to ship.

Our paper backdrops are by no means a lesser product – they offer a different solution at a more affordable price.  For our first two and a half years in business this is the only material we offered and there are over 160 five star google reviews for our paper backdrops to date.

If sustainability is important to you, if you want to explore different ideas and experiment with your backdrop collection, if you have a small budget or if you want to buy in props for clients and then get rid of them with a low environmental impact - paper backdrops are perfect!

Please note: the same design will look slightly different on the different materials – we have tried to show this in the product images.  If you need two or more backdrops the same we recommend buying them in the same material.